Make Believe Bonus: Shibuya Halloween Weekend 2023
With Bonus Review Of Man With A Mission's New IPA For Paid Subscribers
Security swoops in quickly when they spot the Strong Zero. A 20s-something man sporting about half a dozen face piercings cracked a tall can of the nine percent ABV beverage outside of a Family Mart on Shibuya's Center Gai. He carried it to this spot, as the convenience store behind him had covered their alcohol section in a big blue tarp, with multiple signs declaring "NO ALCOHOL SOLD" clearly visible. As a few costumed revelers and many more wearing regular clothes moved past at the instructions of police perched above the street, he sipped away taking it all in.
"Excuse me, you can't drink on the street," private security personnel inform him once they spot him. The drinker is unfazed, and argues he's finishing it up. The officials persist, but he doesn't budge. They summon actual police officers, who also urge him to put the booze away and move along. Still, he persists. Convinced he doesn't have much left in the can, they let him be.
Then swoops in a cameraman and reporter from Nippon TV, who have been standing inches away waiting for their window. They interview the pierced man about his semi interrogation and what all ~ this ~ means for Shibuya Halloween.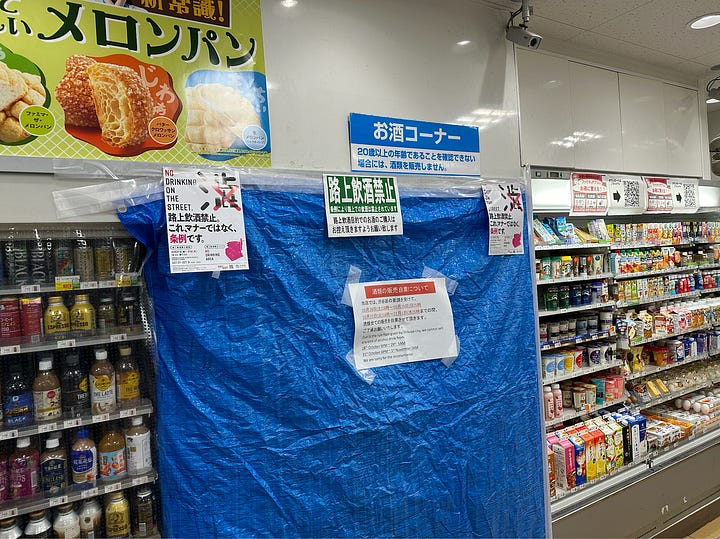 Collection of tarp-covered alcohol corners at various convenience stores in the Shibuya area, Saturday, October 28.
"I'm fucking faded!" a Japanese man yells in clear English to a group of Australians dressed as Power Rangers. Scenes like this — various costumed and un-costumed folks drinking on the edge of Shibuya — play out as I walk from Harajuku Station to Miyashita Park. While I came out on a Saturday night to get a sense of what the much-scrutinized Halloween hullabaloo in the neighborhood looked like, I (correctly) expected Shibuya Station to be a total mess. Coming at it from the back made sense, a feeling plenty of folks shared — especially those who wanted to fit in a few drinks before they reached the no-go zone.
Make Believe Bonus dives into Tokyo life…and more…every week. Consider supporting us monetarily to get an extra post every week
Shibuya Halloween — the loose description of costumed revelry and public intoxication playing out in the busy Tokyo neighborhood since the early 2010s — has long been under scrutiny. I remember going to the earliest versions of it, and in those first few incarnations the streets contained a healthy amount of costumed people enjoying walking drinks. The vibes were good — it wasn't about people-watching, content creation or heavy drinking, but rather hanging out and dapping up folks with particularly good costumes. The biggest issue early on was litter.
As the event picked up stream among youth all over the Kanto region and the perpetually growing number of tourists visiting Japan, Shibuya Halloween got more crowded. Aside from the masses, the 2018 edition saw general havoc, topped off by people flipping over a truck on Center Gai. Calls to curb the informal gathering picked up after all of that, though 2019 looked just as busy as ever (albeit with no major report of vehicular damage). The pandemic pretty much rubbed the event out for a bit, though 2022 had a bit of a pick up.
The tragedy in Itaewon last year, where 159 people died due to a crush in the Seoul neighborhood, hovered over the build up to Shibuya Halloween 2023. It's an understandeable worry and naturally became a major talking point as Shibuya's mayor started urging people not to come to Shibuya this October. Thing is, this crackdown started well before the awful scenes out of South Korea last year, and really reflects a greater tension about what Shibuya is post pandemic. It comes after a year where the area at large — especially Center Gai — has gone under the microscope by the media as foreigners visiting (and lots of Japanese, but they don't get brought up) spend late nights drinking outside of convenience stores in the area.
"Shibuya has acquired a reputation for being a dangerous place during Halloween," Shibuya Mayor Ken Hasebe told The Japan Times ahead of Halloween, in a chat revealing his goals to transform Shibuya into a "mature" area akin to London, Paris and New York1. "It's a reputation we do not welcome. ... An unfavorable culture has taken root from this." He could be talking about a random Thursday night in July or October 31.
So I wanted to see what efforts to curb Halloween in Shibuya looked like, and how it would impact the epicenter of nightlife in Tokyo. This is an area brimming with livehouses and clubs, not to mention restaurants and bars. Telling people "stay away" does a disservice to one of the best sectors the city offers. I had to see it.
Two things struck me while wandering about. The first — Shibuya's strategy for driving away the Halloween crowds wasn't too work on alternatives to overcrowding or drinking, but rather creating as annoying an atmosphere as possible to make people never want to come back to the neighborhood again. There was a constant barrage of noise — from loudspeakers, robot voices, screaming officers — all around. Officials placed a large barrier in the middle of Center Gai to control the flow of traffic down the street, which I actually think is a great idea. Still, it was a stream of shouts urging everyone to "KEEP MOVING" and even the briefest of pauses were met with attention. Security wasn't really mean about it (saw plenty of thumbs up given to good costumes, and at least one high-five), but they also never paused2.
"They are just ruining it this year," a 30-something man dressed as a cheerleader declared to anyone who would listen, along a side street off Center Gai. Thing is…I'm not really sure that was the case. That leads to my second big observation…people still came out and seemed to be having fun. "This is so cool!" one young woman exclaimed to…anyone nearby.
While certainly smaller than recent editions of the unofficial event, the hallmarks of Shibuya Halloween persisted even if every single convenience store in the greater area treated Asashi Super Dry like firearms. People still put on costumes, while dozens of photographers documented it and just as many livestreamers walked around describing the scene to their viewers. A red Spiderman and a black Spiderman snapped photos with giddy tourists near Miyashita Park's food street. Despite all of the efforts to dampen the spirit, Halloween hub Don Quijote still acted like it was 2015. Staff urged people to come in, where they could buy cheap costumes ranging from "Doraemon pull over" to "vaguely sexy police office." Even the store's penguin mascot was out in force urging people to shop.
Hell, even the lack of alcohol could be easily hacked. Five minutes from Center Gai, one could walk towards Tomigaya — one of the world's top ten "coolest" neighborhoods in the world according to Time Out, hey maybe take notes Mayor Hasebe — and find a Lawson with about a dozen foreigners hanging out back. Head inside, and all the canned drinks were freely display, waiting to be purchased. I bought a highball, and enjoyed the quiet.
I considered checking out actual Halloween night too, but decided against it because I was exhausted. It seemed pretty crowded, despite officials being even more strict about what areas people could use. Plus, Saturday told me everything I needed to — if approached from a different angle rather than "stay the fuck away," Shibuya Halloween could be a huge boost to the neighborhood and industries around it.
I'm pro people enjoying drinks in the street, as long as they hold on to their trash. It's one of the nicer parts of life in Japan. Yet I will admit…no alcohol being present in Shibuya wasn't that big of a deal. While loud, getting people to keep moving was generally a good decision. People still wanted to be out to have fun, and they found other ways to do so. That included spilling out of bars and lining up to get into clubs. Like, some of the longest lines I've seen to get into Dogenzaka spots like Atom and Harlem just to name two. There's some little music bar on the side of Miyashita Park that attracted something resembling a block party. It was great.
What if Shibuya actually worked with the bustling nightlife spots in its neighborhood to create a different kind of Halloween event…one highlighting one of the best parts of the district? That was the best-case image I had as I navigated to Shibuya Station. If you want to eliminate the street riff-raff, give them places to go…and Shibuya already has something for everyone on this front. Right now, the strategy is to alienate. Collaborating, though, might lead to something better for everyone.
It's also perhaps a necessary move — all the hub-bub about Halloween in Shibuya meant plenty of young folks letting to cut loose while dressed as Bocchi The Rock characters went different places, such as Shinjuku's Kabukicho, outside of Kabukicho Tower. There's positives to that, such as helping spread out celebrations (one undeniable positive…less people in Shibuya makes for a better time period), but if Shibuya really wants to be a global destination, it needs to offer fun to those seeking it out. Those folks aren't going anywhere, but they could certainly go away from Shibuya.
Written by Patrick St. Michel (patrickstmichel@gmail.com)
Twitter — @mbmelodies
Follow the Best of 2023 Spotify Playlist Here!
This post is for paid subscribers