Discover more from Make Believe Mailer
Covering Japanese Music, From The J-pop Industry To The Underground
Over 1,000 subscribers
Make Believe Mailer 08: punipunidenki
An interview with the versatile Tokyo creator following the release of her newest EP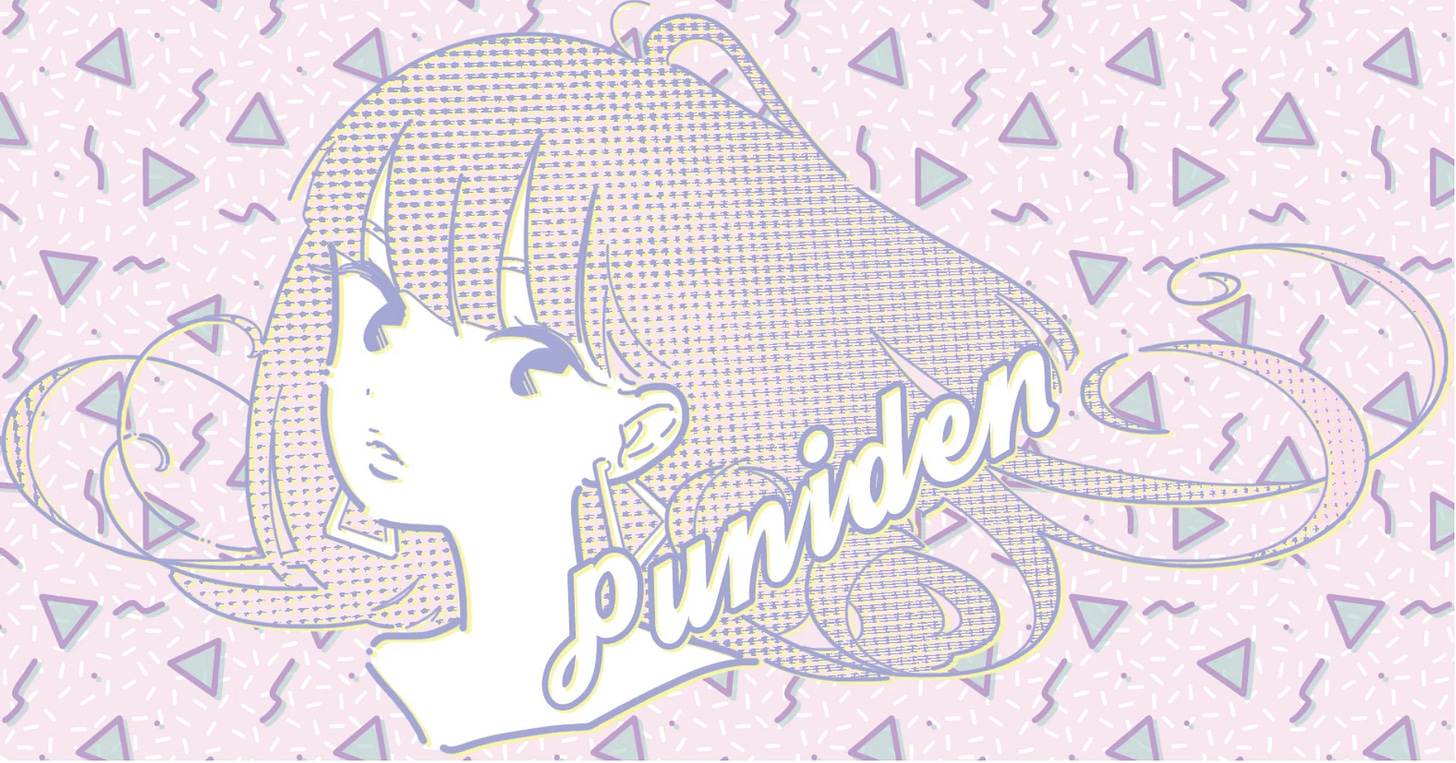 Image via punipunidenki website
Like a lot of people at the start of the COVID-19 pandemic, Tokyo artist punipunidenki found the silver linings of possibly being cooped up at home for months. "At first I thought that our 'new lifestyle' suited me very well and that I would be able to adapt perfectly. I've always preferred recording songs alone to performing live," they tell me, mentioning how the lack of live shows became the biggest personal change for them. "But I realized that was partially wrong. Even though I was concentrating on playing my favorite games and writing songs, I was slowly building up stress within me."
Eventually, they say they wanted to get away from the realities imposed by COVID-19, and chose to do so through music. "I imagined a secret nightclub somewhere in a different dimension or the edge of the universe or something like that, where the gods were having a party." Working with electronic artist SAYOHIMEBOU, they created "DENSHI DISCO MITSURIN," a hectic and fizzy bit of pop escapism highlighted by punipunidenki's own vocals, zipping alongisde the frantic tempo and managing to add sweetness. It inspired them to make an EP of the same name, released last Sunday and providing four flights of fancy during a glum year. Get it here, or listen below.
It's also a compact snapshot of the variety that has made punipunidenki one of the most thrilling young creators to emerge out of Japan's online music communities. The independent creator has dabbled in sweat-breaking dance styles, melancholy jazz-pop, future funk and much more, with DENSHI DISCO MITSURIN showing them operating against their most busy sounding backdrops while also making space for their more minimal side (it goes for their voice too, capable of a near-idol squeak to a huskier delivery). In 2020, they've put out great songs in collaboration with 80Kidz, Parkgolf and more, exploring a wide range of sounds but always adding their own character to the music, often marked by a mix of storytelling and personal experience.
I talked with punipunidenki over direct message and email during the last week about their latest release, how they've grown as an artist and their love of the Boston Red Sox, among other topics.
I wanted to learn a little bit more about your background. Where did you grow up?
punipunidenki: I grew up in Japan and the internet! The exact location is a secret.
Do you remember the first time you used the internet? What was the first site you looked at?
My first internet experience was reading someone's blog with my friends on an old computer at school. Then I became obsessed with anonymous diaries, drawings and videos. I was surprised that there was a place for people to present their work like this, because until then I thought that painting, music and videos were for professional people. I thought it was wonderful because it was so separate from industry, free and diverse.
When did you start making your own music? Was it after discovering these sorts of blogs and spaces?
Yes, I didn't start making music on my own until much later when I discovered the internet. I probably wrote my first song about 10 years ago now.
What sort of music did you listen to growing up?
Popular music and jazz, I guess. I especially liked listening to the vocal jazz stuff. I actually became a big fan of Chie Ayado on a Japanese TV show when I saw her talk about her life. I like pop, but sometimes I felt like it was something that was only for when I was young. But when I discovered jazz, I realized that music should be a part of my life forever and I wanted to do music that oozes with life.
It's funny hearing that since I think my first encounter with your music was something that would definitely be more "pop," but of course you have tried out so much over the years. Why do you try out so many different styles in your music?
I think we are all different facets of human beings. We all have diversity within ourselves. We can be strong or weak, we can love people, sometimes we can hate them and sometimes we can forgive them. So I thought it's ok to play jazz, sing kawaii music and sometimes breakcore. It's just something that comes naturally to me.
To turn to the new release, how did you first meet SAYOHIMEBOU? Do you remember your first interaction, online or in person?
I first met SAYOHIMEBOU on SoundCloud. Their sound is amazing, it's like a secret letter from outer space. We chatted over Twitter DM and exchanged sound files as we created the track. They hadn't collaborated with vocals before with me, but their use of vocals with their intricate effects and processing was so unique that I was really impressed.
After putting together the title track, how did you go about creating the rest of DENSHI DISCO MITSURIN? How did you end up working with the other collaborators, and what sounds did you want to explore on this release?
Whenever I make an independent EP, I try to choose at least one person or group to collaborate with for the first time. oriik internet is an artist I met at a live event earlier this year and they have a very interesting sound. Since we live far away from each other, we kept in touch via DMs on Twitter to make the track. Dirty Androids is a great artist and I've been a fan of his since before. We had a small launch after working on the song "On The West Coastline" for the MEGAREX compilation, and I offered to arrange "metamorphose" for the third track on the EP. Just as there are many different creatures living in the "jungle," I wanted to bring together artists with different textures of sound and bring them together on this EP. The concept has the power to bring artists together.
What do you look for in a collaborator?
I think the best thing to do is not to interfere too much in collaboration. If that's possible. Of course, if we have concerns about something, we should share them. And sometimes it may be necessary to exchange ideas to improve the quality. But if we think like "I want to control my partner" or "I want to make a song that's 100% the way I want it to be," it's not going to be a good collaboration. We have to respect each other as artists. It's good for me to not get my way. It's great to be surprised and I like coincidences. I want to collaborate with artists who can do that.
One song that has stuck with me is "empties," with Shin Sakiura. How did that collaboration come to be, and how was it creating that song?
Actually, the demo of this song was completed at the same time as (Parkgolf collaboration) "Toumeiningen On The Beach". For "empties," I was trying to portray a negative emotion such as 'jealousy', as opposed to the positive emotion in "Toumeiningen On The Beach." My demo was generally dark, but I think We succeeded in showing the theme more vividly by adding Sakiura's bright aura to it.
How does your approach to songwriting change based on the style of music you are working with? How is, say, the songs on DENSHI DISCO MITSURIN different from the ones on Wonder Underground different from "Kimi Wa Queen," just as some examples that jump to mind?
Wonder Underground and many of the songs before it reference a science fiction or fantasy world. And many of them set a slightly grotesque theme. In fact, I usually use falsetto and sweet singing to hide the ugly stuff. Kawaii is written in kanji as '可愛い'. To me, 'Kawaii' is the process of making something ugly into something people can(可) love (愛) them. That's why the sound is often sweet and soft, but the lyrics are often dark. The first song on Wonder Underground, "MAN-MADE", was inspired by The Little Mermaid. In this song, She is a biological weapon created by humans, and the "witch" is a scientist. She feels sorry for her, and lets her escape. However, this mermaid has no human feelings, cannot speak, and does not know love. The prince loves her, but the human's 'way of loving' causes her pain. She learned only to hate, and she decided to use her power to destroy the country.
In "Kimi Wa Queen" I'm singing about something very real. It's the kind of person I'm trying to be today. Respect, forgiveness and love. I think there are still a lot of problems in human interaction, and social networks have increased some of these problems. That's why I need this "human" music to balance my mind. In fact, this song has helped me a lot. It has made me more optimistic about the future. And the fact that this song has been accepted by so many people has also encouraged me.
About DENSHI DISCO MITSURIN, the word "jungle" (MITSURIN) conjures up an image of a place that is beyond the reach of humans and beyond their power. Rather than a jungle on earth, it's more like a chaotic place in another dimension, at the end of the universe. The first track is about the central point of the cosmic 'jungle,' the second track is about escaping from it. But the third track is getting closer to our world, and finally the fourth track is about the loss of the cosmic "jungle" and the acquisition of humanity. It's a hybrid of science fiction and fantasy worlds and human music, and it moves back and forth between both. I'm really happy to be releasing this in late 2020.
These problems cannot be solved by a single solution. We must always look at things from multiple perspectives. Who am I? What are the others? What is the world?And how do they relate to each other? Or what if the fate of the world is left in the realm of the completely unreachable? (lol) My interests are not exhausted at the moment, so I will be writing songs for a while longer. But I always write in a different way and consistently with the theme of respecting what we don't understand (yet). We could call it "possibility" or "margin."
On your website, you write about "expanding the magic that is Japanese music culture." What exactly is that magic? What do you think of Japanese music in 2020?
This is meant to be hopeful. I'm still in the process of looking for where andwhat that "magic" actually resides. Meanwhile, having amazing artists like Night Tempo, Moe Shop, Macross 82-99 and others bring attention to Japanese culture and collaborating with them has been a very important event in my life. Although I am definitely a Japanese artist, I can see a positive change in my work by collaborating with artists from around the world on the internet. Now, music is a big market in Japan, but it can sometimes feel less diverse and less connected to the world. I feel that there are a lot of problems in the music industry system as well. So I'm hoping that these things are going to be a little bit better.
What do you think of internet culture in 2020? What is your internet usage like this year, and do you ever feel burnout from life online?
Technology brings not only hope. This is a recurring theme in old stories and in science fiction. I think the same is true of the Internet. As the philosophers say, I think of humans as hackable creatures. We can be affected by both good and bad influences. Despite the warnings of our predecessors and passionate philosophers, the bad effects are particularly evident in 2020. The "wide world" may have scared some people away. I think I need to take this issue more seriously. As you say, I'm really tired and being disappointed with social networking and the like. So I want to post something positive for myself on the internet.
I'm curious how subscription streaming impacts what you do in anyway.
So far, I'm feeling grateful for subscriptions and streaming. It's given me some stability — albeit perhaps fleeting — in terms of income. Being able to make money from releasing my own music gives me time to consider taking on client work. It's good to know what kind of artist I am and what I should and shouldn't do.
Which work from 2020 meant the most to you, and why?
Hmmm......it's very difficult for me to choose. But... the most interesting piece is "Summer Rains," which I made with the Canadian trackmaker Memorecks. It's for a project called Duos by Sapporo Canada, and we collaborated through their sponsorship. Normally I can choose who to collaborate with and decide who to accept offers from, but for this project, a third party decided who to collaborate with. It was a good challenge for me. Memo is a really great guy. We respected each other to make the track. It was a great time. I think it turned out to be a very good song.
Finally — and this is a total shift — but you are one of the few people I follow on Twitter who follows baseball. How did you get into the sport? And why are you a Red Sox fan?
Baseball is a popular sport in Japan as well. However, I didn't know the rules until two years ago. That's when I happened to see a game between the Red Sox and the Angels at Fenway Park on TV, as it was also televised in Japan because the Angels have Shohei Ohtani. I realized that OMG THIS IS "Diamond City!"
Fallout 4 is the game I love most in my life, and Fallout 4 has recreated the city of Boston in great detail. Fenway Park is no exception. Two hundred years after it was destroyed by nuclear weapons, Fenway Park exists as a people's stronghold, "Diamond City." From that moment on, I became a huge Red Sox fan. And since the Red Sox won a championship that year, 2018, my love for the Red Sox was solidified. I visited Boston last year and it was an amazing city! It's hard to believe it was my first visit. I saw two games at Fenway Park and the people were wonderfully helpful and told me a lot about the ballpark and the interesting bars around it! And the clam chowder was so good. An experience I'll never forget! I definitely want to go back to Boston again.
Support punipunidenki at her Bandcamp